Please study the information below which includes the process for ordering. The downloadable order form is ready for your use.
Thank you for your support of Jubilee Farm. We look forward to your call!
---
---
We are entering the next phase of our seedling sale and are grateful to everyone who has responded generously in support of Jubilee Farm. Our organic seedlings are very hearty and grown without chemicals. We are selling our seedlings at the low price of $4.00 because we want as many families as possible to enjoy our seedling flowers, herbs and vegetables.
Please call 217-787-6927 to make an order using the order form.
Hours for seedling ordering are: 9 a.m. – 11:30. a.m. Monday – Friday. Please call during these times.
Next day pick up: We will have your order ready for pick up 9:00 a.m. – 11:30 a.m. the day after your order Monday – Friday. Please see the safety instructions below for picking up your order.
In order to provide for the safety and health of all concerned, please note the following:
Orders will be taken by phone, Monday – Friday, 9:00 am – 11:30 am. Orders will be ready for next day pick up during the same hours: 9:00 a.m. – 11:30 a.m., Monday – Saturday.
Pick up will occur in a drive through manner. Customers are asked to drive into our main entrance and follow the signs to the table where the order will be labeled with customer name. A donation jar will be there for donations.

Once this is finished, drivers will leave through the New Salem Church exit. (If a customer wishes to speak to a staff member, masks are required.)

Please note:

We cannot take credit card payment. We accept checks and cash but cannot give change. Make checks payable to Jubilee Farm.
We are very grateful for your support and look forward to waving to you as you drive through our seedling sale this year!

Butterflyweed: 2-3' tall; Sun/partial shade (orange, perennial)
Radio Calendura: 18-24" tall; Sun/partial shade, hardy annual; self seeding (orange)
Cardinal Climber Vine: 10-15′ tall; Sun/partial shade; requires trellis or fence; half hardy annual (scarlet)
Coxcomb Giant: 2′ tall; Full sun; annual (vibrant red)
Sea Shell Cosmos: Large blooms- 4-5′ tall; Sun/partial sun; needs stakes of fence, half-hardy annual
Johnny Jump Up (purple, yellow, blue) 5-6″ tall; Self-seeding biennial; edible
Munstead lavender: 18-24"; Full sun, well drained soil; Likes 6-8 hours of sun; shelter near building with full sun; perennial Ready in late May
Marietta Marigold: 12-18"; Sun (orange and red) annual
Starfire Signet Marigold: 12″; annual; heirloom
Empress of India Nasturtium: 12-14"; Full Sun (crimson) hardy annual; edible
Tip Top Nasturtium Orchard Flame: 8-10"; full sun (Apricot, gold, scarlet mixture) annual; edible
Tetra Mix Snapdragons: 18-24″ annual; semi dwarf
Aztech Sunflowers: 3-4′; annual
Giant Zinnias: 2-2.5′ color mixture ; full sun; annual
Jazzy Zinnias 18-24" yellow, cream, chestnut, red; full sun; semi-double blossoms; annual
Whirlygig Mix Zinnia: 3-4"; full sun (mixture of color/bi-color pattern blossoms) annual
---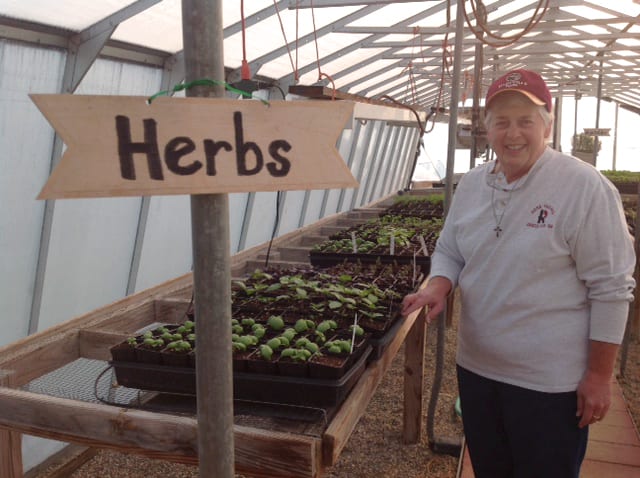 HERBS

Dark Opal Basil
Genovese Leaf Basil (Sweet)
Lemon Drop Basil
Thai Basil
Cilantro
Garlic Chives
Chocolate Peppermint Ready in May
Dill
Greek Oregano
Giant Italian Parsley
Culinary Sage (propagated)
Rosemary (propagated from plants)
Common Thyme
Lemon Thyme Ready in May
---
VEGETABLES

Early Fortune Cucumbers (trellis) Ready in May
A+C Pickling Cucumbers (trellis) Ready in May
King of the North Peppers (Sweet) Ready in May
Marconi Red Peppers (Sweet) Ready in May
Cherokee Purple Tomato (Juicy & sweet) Heirloom Ready in May
German Pink Tomato (Beefsteak) Heirloom Ready in May
Large Red Cherry Tomato (full flavor) Ready in May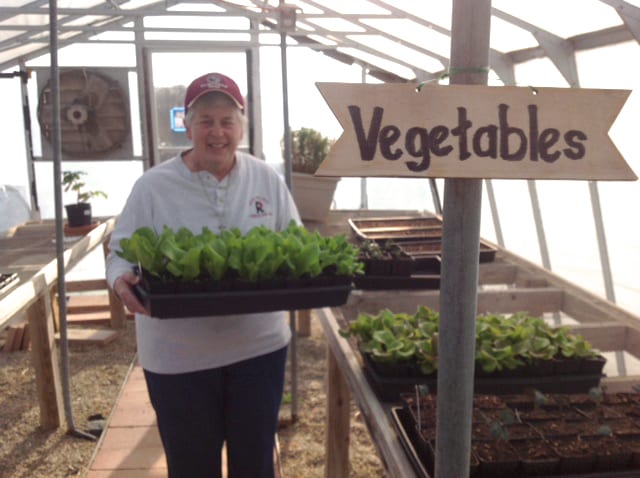 ---