Let's keep the hand-made creative traditions going for the next generation!
Enjoy one, two or three evenings of creativity, camaraderie and fun!
Children accompanied by adults are most welcome to participate.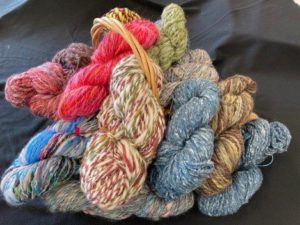 WHAT: Using available handspun bulky yarn participants will create a simple keyhole scarf or cowl. Assistance is provided for those who are learning the techniques of knitting, crocheting or weaving.
WHEN:
June 10, Knitting, 2:00-8:00 pm*
July 29, Crocheting, 2:00-8:00 pm*
August 26, Weaving, 2:00-8:00 pm*
*Participants choose their time within these hours.
REGISTRATION & FEE:
Registration is required for each event and closes one week prior to the event. Registration includes a deposit of $25.00.
With the deposit one chooses a skein of yarn and pattern for the project. (Additional yarn is $20/skein.) Information is provided on needle size/crochet hook. Participants bring their own knitting needles or hooks.
The $25.00 deposit is applied to the total cost of the program:
Knitting, June 10, $45.00
Crocheting, July 29, $45.00
Weaving, August 26, $55.00 (Limited to 10 students)
Interested in all three events?

Total Cost: $135.00
For further information or to register call Anita Cleary, OP at 217-787-6927