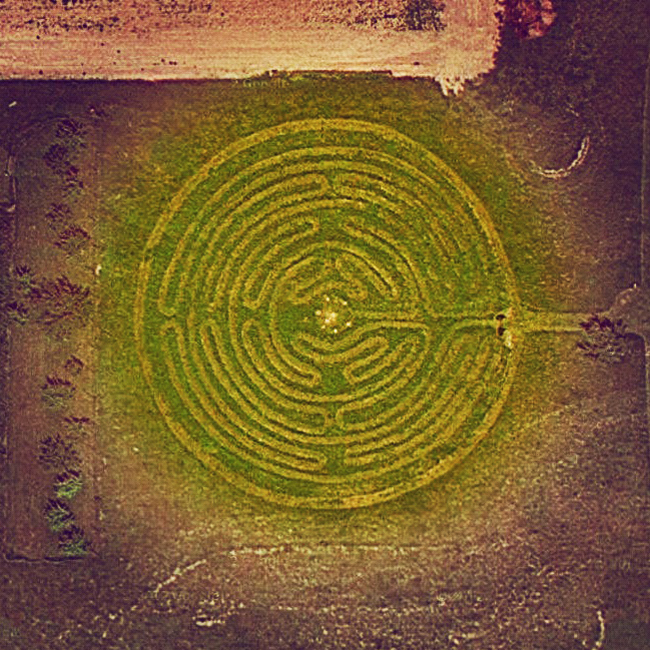 The labyrinth is an ancient symbol that can be traced back over 3,500 years. It is a single path which takes you to a center place and back out again. One of the most famous labyrinths (and the one replicated here at Jubilee Farm) is the one embedded in the stone floor of the Cathedral of Notre Dame in Chartres, France. Used as a pathway of prayer, it afforded medieval pilgrims, who could not leave their own country, the opportunity to make a spiritual version of the sacred journey to the holy city of Jerusalem.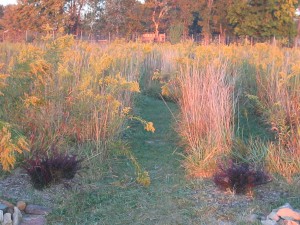 There are no wrong turns or dead ends in a labyrinth – there is one way in and one way out.  Millions of people around the world use the labyrinth as a spiritual practice.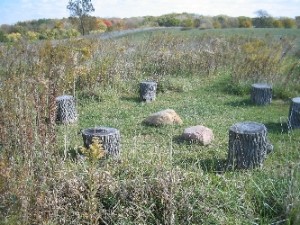 Our labyrinth is completely natural. Situated just west of our Peace Pole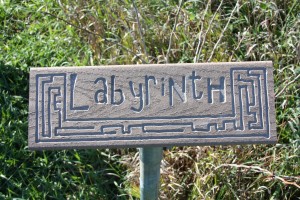 and east of our organic orchard, it is mowed right into the pasture grass and is one of our most visited sites by individuals and groups.
The labyrinth is generally open year-round during the same hours as our walking trails: Monday through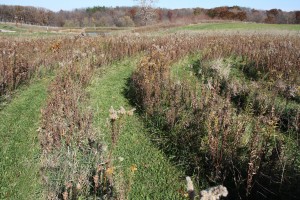 Friday from 9:00 am until dusk, Saturday from 9:00 am until 4:00 pm and Sunday from 12:00 noon until dusk or by special appointment. Please call 217-787-6927 for more information.  There is no charge to walk the labyrinth. Donations are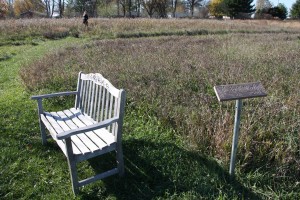 welcomed and appreciated.
To view a 360° view of Jubilee Farm walking trails, outdoor labyrinth and peace poll take a look at this link: 360.io/w2vz3f
Read the featured Labyrinth Story by clicking here.