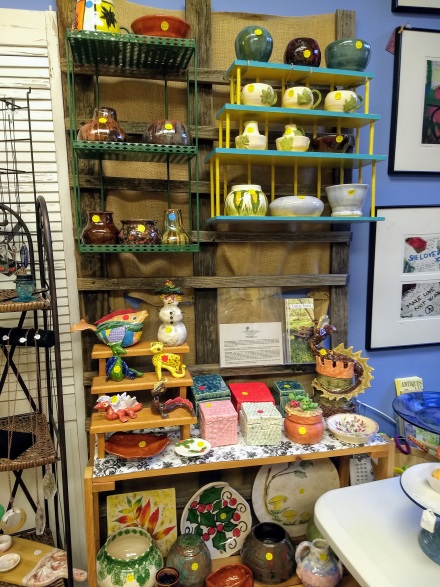 The relationships we make can take us to new places. In our case, it took our pottery items to a fun shop in downtown Springfield, Illinois. Alicia Bibb, owner of Studio on 6th, came to the Jubilee Farm Craft Sale on December 1, 2018. Alicia bought some of the pottery and was very interested in having Jubilee Farm join her community outreach efforts through her store, Studio on 6th, located at 215 South 6th Street.
We are thrilled to be one of the featured professional artists in the nonprofit section of the store. You will find the pottery works of Sister Mary Frances Gorman, OP along with our other items for sale toward the back of the store.
Take a drive downtown and check out the the community outreach room to see the new additions to our section. We have since added three wooden peg games made by Sister Margaret Therese Hebert, OP along with an 8″ x 10″ poster of Jubilee Farm information.
Join Sister Rose Marie Riley, OP on Saturday, December 22, 11:30 a.m.-2:30 p.m, to ask any questions about Jubilee Farm and see what new items will be on display. Come early for the snacks provided by the studio!
We are all looking forward to this new adventure and hope you are excited about it too!