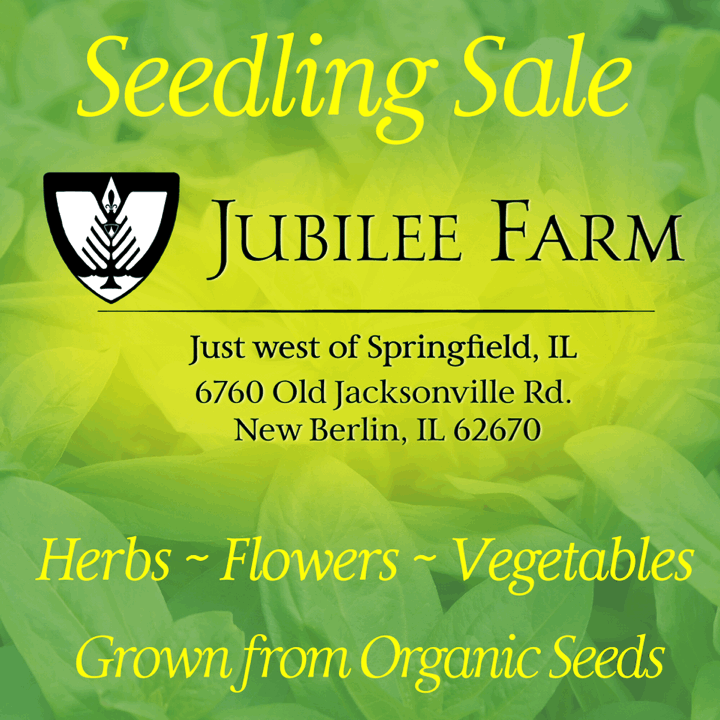 Seedling Sale at Jubilee Farm
Herbs ~ Flowers ~ Vegetables
Grown from Organic Seeds
Beginning Monday, April 23 we will start selling herbs, flowers, and vegetables here at Jubilee Farm. All herbs and flower seeds are organic.
Hours will be Monday-Friday, 9:00 a.m. to 3:00 p.m. and Saturday, 10:00 a.m. – 1:00 pm. (Due to the weather, we have a few late starters! Call to ask if your choices are ready.)
Prices start at $3.75 per pot for herbs and $4.00 for flowers and vegetables.
Here are a few of the seedlings we have available:
Herbs: $3.75 ea
Common Thyme
Garlic Chives
Thai Basil Greek Oregano
Fernleaf Dill
Sweet basil
Lettuce leaf Basil
Lemon Basil
Rosemary
Purple Chives
Purple Opal Basil
Cilantro Culinary Sage
Flowers: $4.00 ea
Nasturtiums (Ladybird climber)
Nasturtiums (Empress of India)
Marigolds (Mariette)
Zinnias (Gift)
Johnny Jump-Ups (Violas)
Cosmos Mix
Calendula (Bright Lites)
Pinwheel Znnias
Tricolor Daisies
Butterfly Bush
Cardinal Climber
Vegetables: $4.00 ea
Cucumbers
Tomatoes-Italian Heirloom
Tomatoes-Cherry
Orange Bell Peppers
Red Bell Peppers
Green Bush Beans
Yellow Summer Squash
Zucchini
---